28 April 2018 @ The Five-Flags Speedway in Pensacola, FL

	7:00 AM to 9:00 AM	Team Registration/ Vehicle Inspections

	8:30 AM to 9:00 AM	Track entrance closes for first practice round

	9:00 AM to 9:30 AM	Track reopens for late arrivals/ Vehicle Inspections con't

	9:30 AM to 10:00 AM	Track Entrance closes and second practice round

	9:30 AM to 10:00 AM	Teams prepare cars and starting positions drawn

	10:00 AM to 10:15 AM	Driver's meeting at Winners Circle

	10:15 AM		Cars Positioned on track, Track marshals take positions,
					Timers and scorekeepers in press box

	10:25 AM		Drivers in vehicles/ Confirm track marshals, timers and scorekeepers are ready/
					Confirm Drivers are ready and announce race as ready to start

	10:30 AM		Drop Green Flag

	11:30 PM		First Race Ends/ Results Tallied and announced

	11:45 PM		Track reopens for lunch/ Spectators 

	12:00 PM to 1:00 PM	Lunch for teams and volunteers in the In-field

	1:00 PM			Track Closes/ Spectators asked to leave infield/
					Track is cleared 

	1:15 PM			Vehicles positioned on track in reverse order/ Marshals,
					Timers and Scorekeepers positioned

	1:25 PM			Drivers in Vehicles/ Confirm track marshals, timers and 
					scorekeepers are ready/ Confirm Drivers are ready
					Announce race as ready to start

	1:30 PM			Drop Green Flag

	2:30 PM – 3:15 PM	Second race ends/ Results for second race and over all tallied

	3:15 PM			Awards/ Team Pictures in Winners Circle


THIS EVENT IS FREE AND FAMILY FRIENDLY!

COME FOR AN HOUR OR COME FOR THE DAY.


This will be an Electrathon America sanctioned event held at Five Flags Speedway in Pensacola, FL on Saturday April 28, 2018. The event will consist of two (2) - 1 hour events of up to 25 Electrathon race cars. The first race will begin at 10:30 AM and the second race will begin at 1:30 PM. Trophies for each class (high school and open) will be given for 1st, 2nd, and 3rd place finishes as well as one for the Overall Winner.

Five Flags Speedway is a 1/2 mile oval asphalt track with 15 degree bank turns and 7 degree straights. This will be the 10th annual Emerald Coast Electrathon Classic 120. We began in 2009 and last year we had 29 cars running on the track. There was also a NASCAR official lap system up and running where the entire world could follow the race on the Race Monitor app. Please send out to all you know that we are now scheduled and look forward to having all of you this year at Five Flags Speedway!



Promotional Video - What to Expect at an Electrathon






THANK YOU TO ALL WHO PARTICIPATED! Here are the 2017 Race Results.

Click this image for a short video from the start of Heat #2!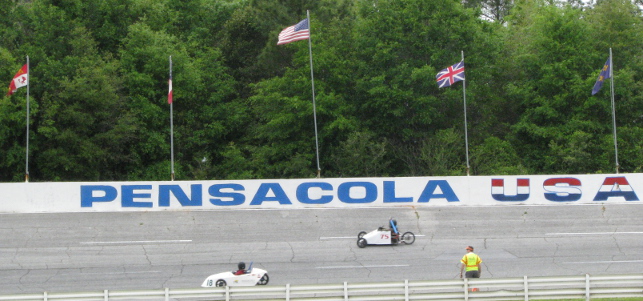 Contact the webmaster.
Free web templates